How to find cheaper flights
Finding flights with good or reasonable prices can be difficult, especially today in late 2022.
More countries are open for travelling and tourism after the pandemic, so after a few years in lockdown, people want to travel! This means there is higher demand, so companies can charge higher prices.
We are facing some kind of an energy crisis as well. Fuel costs a lot today, as I'm sure you have seen on the news or in your everyday life. Higher fuel prices mean more expensive plane tickets.
This doesn't mean there wouldn't be a way to find a good deal. I've listed 8 tips (with a few extra ones in my Short take- section in the end) you can implement before booking a flight.
Table of content:
Compare different search sites

Hidden cities

Use a different language or currency

Long layover & visit a new city

Choose flexible calendar for cheapest prices

Use Google flights

Book months in advance

Set alerts
PLUS some short takes on a few tips in the end on:
Is it beneficial to stay loyal to an airline?

Are there always hidden fees?

Should I delete my search history and go Incognito?

Is there an option to cancel?

Can I save with credit cards?
1. Compare different search sites
There are multiple different search sites that compare thousands of different platforms in one. A few are Expedia UK, Kiwi.com and CheapOAir. Here is some info about them.
500+ airlines, 3 million properties, 220,000 unique activities, multiple cruise lines and thousands of car rentals.
According to Expedia and their historical data, Sundays can be cheaper for airline ticket purchase. Fridays tend to be the most expensive day to book a flight. With the right booking day it might be possible to save around 6%. 
You can book refundable tickets as well. You can see a green text labelling that as you search or you can also filter the results to show only refundable flights. Each refund might have a different policy, so make sure to read all policy info before you book.
Expedia suggests joining their free membership to earn rewards every time you book. You earn points every time you book while you're logged in. They convert the points to your currency to save on the next trip. The more you book, the more points you collect and can go higher to the next tier for more perks.
Compares 2 billion prices across 500 + airlines.
Kiwi has created a Kiwi- code, an unique computer code that "hacks" better and cheaper deals for you.
Kiwi- code sees 95% of all flights around the world and checks over 50 billion routes for you. They say this Kiwi- code is able to find deals other search engines are not able to.
You can use this code by going to Kiwi.com and setting the alerts by clicking the bell in the upper-left corner. (You have to sign in or create an account before you can do this).
What I like about Kiwi.com is that after you choose a destination, for example Amsterdam, the site shows you the latest COVID- districtions and very broad FAQ, where they answer most frequently asked questions on the route you chose. What a time saver! I don't have to search this info online anywhere, it's given to me at the same time I'm searching for flights, yay!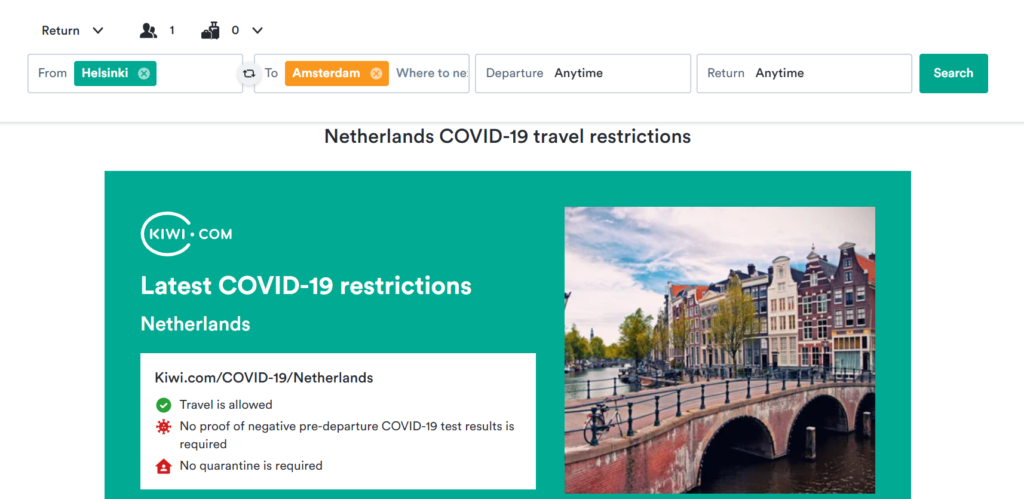 Kiwi.com– app has access to some hidden features and special deals, so I'd suggest downloading that. You can also get all the info in one place, including all tickets (plane, bus, train etc.), alerts, hidden features, special offers, campaigns, boarding passes and much more.
Kiwi.com offers a guarantee for safe bookings. Read more here: Kiwi Guarantee
They offer 500+ Airlines and Non Published Fares. 
You can earn 2 x the points, when booking through their app.
CheapOair says usually weekdays are cheaper to book deals than weekends, and travellers who book at midnight in the beginning of the week usually book deals for cheaper than the other remaining days.
They suggest booking through their Call Centre, so you can get 24 hour cancellation, instant confirmation, expert guidance and flexible payment plans.
2. Hidden cities
What are hidden cities? Hmm, sounds mysterious. 😉 
It means you book a flight further, beyond your destination with a connecting flight, but never go on the second flight and stay where your layover is.
An example would be: I book a flight from Helsinki to Barcelona, but there is a layover in Frankfurt. My goal is to go to Frankfurt for cheaper and that is my final destination. Then I simply stay in Frankfurt and never go to the Barcelona flight.
Sounds a bit "wrong", doesn't it? When you search "hidden cities" on Google, a lot of questions about whether it's legal come up. It is legal and matter of fact, Kiwi.com actually suggests it as one travel hack on their website to save on flights.
There are a few things you have to take into consideration. You can't take any checked baggage, this includes pets and any other checked items. This hack is only for hand luggage, since everything checked will be sent to the final destination.
There might be some other things as well you have to take into consideration, you can read more about it here: Kiwi Hidden City Travel Hack
3. Use a different language or currency
One of the tricks you can use is to use the same website, but for different countries. For example expedia.fi (Finland), expedia.se (Sweden) and expedia.co.uk (United Kingdom) is the same website, but listings are with different currencies and different languages.
You don't always have to use a different ending or country code. You can change currencies and languages from the main site, expedia.com, on the header (top main bar).
So how can this be a trick for saving? Airline pricing is super tricky and it's hard to explain why sometimes there seems to be no logic for the given prices. It's not based on how far you are going, but supply and demand.
I've tried to use the Swedish version for the same website, when there was a Finnish holiday coming up. Finnish sites had higher prices when Finland's Independence day was approaching, but the Swedish version had the same flight for less.
I'd suggest you to play around with this feature and see if it makes a difference.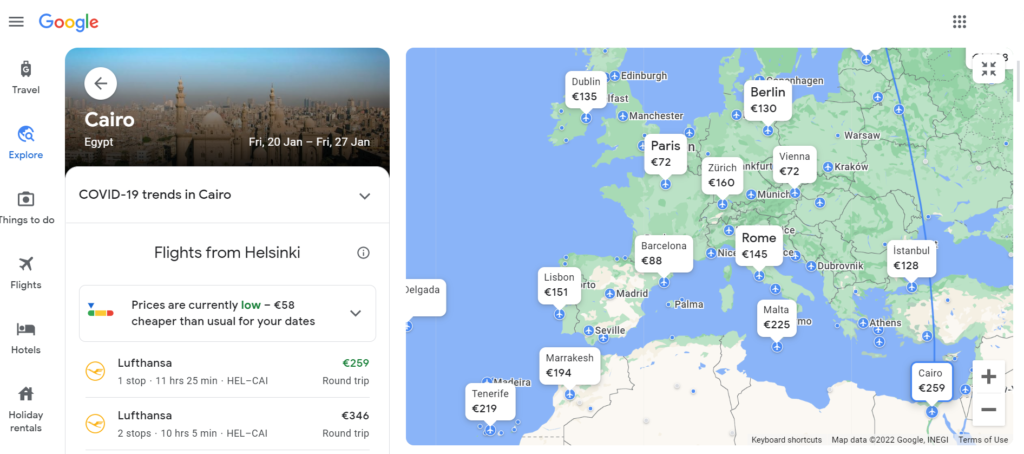 4. Long layover & visit a new city
Flights with connecting flights are usually cheaper than nonstop flights. Nobody really wants to stay at the airport for hours and to go through security checks many times, but sometimes it's worth it to save big bucks.
One good way to get more out of flights with layovers in addition to saving money, is to choose a really long layover and visit a city while waiting for your next flight.
Most bigger airports, at least in Europe, have a train that goes straight to the centre of the city. Many train tickets are reasonably priced and won't take longer than 30 mins. The same train goes back to the airport.
I've visited Copenhagen, Denmark and Stockholm, Sweden many times this way. Amsterdam is accessible from the Schiphol terminal too. Leave your luggage in a locker or luggage storage and take only your hand bags and visit a new city in the meantime!
5. Choose flexible calendar for cheapest prices
If you can be flexible with your travel days, make sure to check the search site's calendar for the whole month to see all prices. Sometimes travelling one day later or before the original day you had planned can save you hundreds of euros.
Here I tried searching for a flight from Helsinki to Amsterdam and chose to see the whole calendar. On Tuesday it costs 108 euros to go to Amsterdam when 3 days after getting to the same destination is a lot more, 255 euros.
6. Use Google Flights
Have you compared flights and went straight to an online travel agency or a search site? And totally forgot about Google Flights? It is a great option to find deals, so don't forget Google Flights next time you plan your next trip.
What I like about Google Flights is that you can search from a map and already see prices placed on a map. (Photo below.)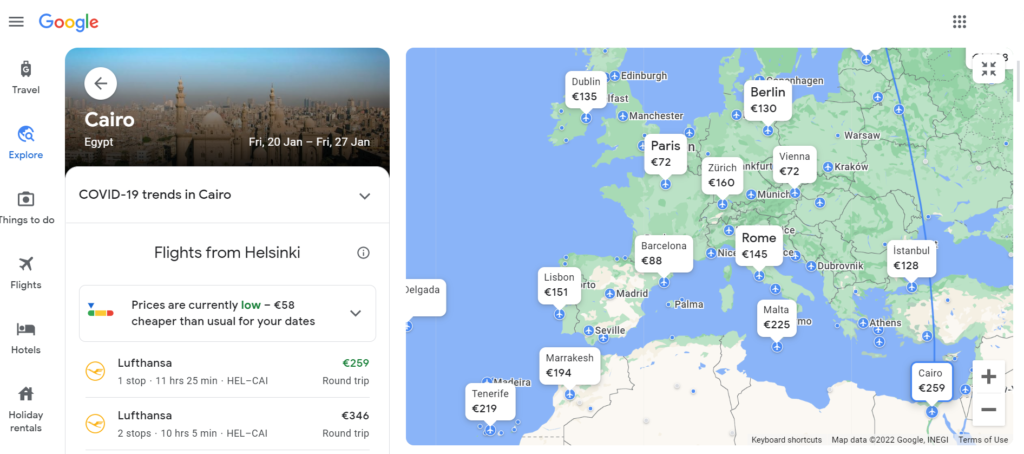 You can type a city you'd like to go and click Things to do, and it shows you the best attractions, suggests things to do, shows COVID- restrictions and much more! (Photo below.)
Don't sleep on Google Flights 😉 
7. Book months in advance
Expedia says according to 2020 & 2021 global flight data for economy tickets, prices start to increase 21 to 56 days before the departures. So for best prices the tickets should be booked months in advance. Of course this can change, so it's suggested to keep an eye for flights or setting alerts. (More about setting alerts in the next section.)
CheapOair says for best deals you should book 30-45 days in advance and if you are planning to travel during peak season, you should book your flight 60 days in advance.
8. Set alerts
By setting alerts, you can save a lot of money without having to search the same route over and over again yourself for better deals. Flight alerts will inform you when they have found you a good deal, so the search sites will do all the work.
You can remove alerts anytime you want and alerts work on both apps and on desktop.
As I mentioned in the first tip, Kiwi.com offers great alerts that can see 95% of all flights around the world and checks over 50 billion routes. Kiwi's alerts are able to find deals other search engines can not.
You have to create an account first and sign in to set up these alerts. Just click the bell in the upper-left corner. They will send you an email or push notification after they have found a better deal.
Google Flights have alerts as well. Go to Google Flights (by simply typing Google Flights on your browser's search bar.) Then tap Menu on top left and choose Tracked flight prices. I've taken screen shots for you and highlighted the right buttons with yellow. Hope this helps!
For Google Flights I didn't have to create an account, because I already have a Gmail- account and I'm always signed in.
SkyScanner has price alerts too and they are really easy to set up. Go to their website skyscanner.com, write your departure and destination cities to their search bar, wait for results and on top of results they have a big button "Get price alerts" you can click. After clicking they guide you through the process.
Short takes on a few extra tips:
Make sure to

check hidden costs

(especially when flying budget airlines). Sometimes airlines show only the cost of the flight, and haven't included any baggage, meals or fees and taxes.
If you can, choose a plane ticket that has a

free cancellation for 24 hours

. If cheaper tickets show up in your search after you just purchased a ticket, you can cancel the more expensive one with no questions asked and choose the better option. Just make sure to read airlines

policies

, since each search platform or airline might have different rules.
Some say

going Incognito or deleting your search history

doesn't affect the cost of an airfare and it's a complete myth. I'm not sure about this, but I do know somehow prices tend to go up the more I search 😀 It's almost like they know I really wanna go somewhere and offer more expensive prices. You can keep this in mind if you want and play around and see if it affects or not 🙂
Being loyal to one airline

can have its benefits, but isn't always necessarily the best option. An airline can reward your loyalty with points, which is good, but sometimes you would have to fly a lot to get any discounts. And sometimes even then, the discount might be super small. It's possible you can find a better deal with another airline, and their airfare can be lower than the initial loyalty discount the other airline gives.
I was going to write a full detailed tip about

credit cards

, but then quickly realised it probably needs its own full article. There are so many ways to save and earn points with credit cards. Points can be converted into multiple things; miles, hotel discounts, travel points etc. Some offer bonuses the others don't and some have an annual fee. They all are suitable for different people with different goals. Also there can be risks getting a credit card, if it's not used wisely. I don't want anyone to get one just for points and not be able to pay back, so I feel I need to write a more in depth article about this tip. So more in a different article coming soon!
I truly hope these tips can save you money in the future. Being patient, comparing usually pays off 🙂
Thank you for reading and visiting this article <3